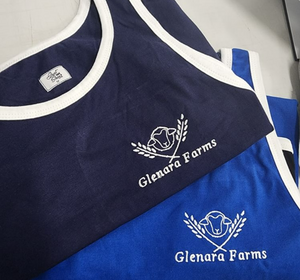 Which print style should you choose?
We have a few choices of print styles that we do at Just Shear & it can be a little confusing. So here is a little guide as to the best choice for your logo.
Digital Print
Embroidery
Screenprint
Digital Print 
Is printed and cut on a large format printer, then applied by heat with even pressure at 150c. You can have a lot of colours & detail in this print style. Very versatile and looks great. Something with gradients/fades is perfect with digital print like the below logos.
Embroidery
Stitched with a polyester thread - is good for mutliple colours but not very fine/small detail. Very classic look & long lasting. Logo's are digitised ready for stitching, so each stitch is mapped out.
Mostly chosen for the front of garments but can be also done on the back. Simple does look great embroidered like the below image.
Screen Printing
Using a silk screen that has a stencil on it we 'push' a water based ink through the design with a squeegee onto the garment, which is then 'cured' at 145c in a tunnel dryer. 
Great for very small detail in single colour, also have a minimum of 25 garments per design. There is a lot of time in the set up and cleanup of the silk screens which is why we set a minimum. 
We have the option for each of these print styles on our products so you can choose. Once you have gone through checkout - we then send you a proof of your design on the garment so you can see what it will look like when printed. 
Email us your logo carlie@justshear.com if you are still unsure and we can point you in the right direction. If you do order and we think your logo won't suit the style chosen we will let you know and help to either adjust the logo to suit or swap over to another style. 
---