Who we are..
We are a small business working from a farm on Yorke Peninsula in South Australia. Carlie started Just Shear in 2017. Since then we have grown to supply and print for rural business' all over Australia and the world. We have Carlie (owner), Mason (the 4 year old overseer), Aria (2 year old boss), Paul (Qualified - screenprinter & signwriter), Helen (makes sure deadlines are met), Lizzie (packs orders & makes amazing coffees) Jayden (1st year apprentice).
We love producing high quality clothing for rural aussies and around the world. We work alongside farmers, shearers, tradies and so many more amazing hard working people to create clothing that is practical, comfortable and hard wearing.
Can't find what you need?
Give Carlie a call or text on 0407 178 339 to chat about what you need or if you just need some advice. 

Custom Icy Pole Holders
Any name printed on your choice of colour to fit zooper doopers and save the paper towel.
Premium Shearing Supplies in Australia
Just Shear is committed to providing Australian farmers, tradespeople and other rural professionals with the highest quality long-tail clothing. We ensure that all our products are designed to sustain the hard-working life of our customers – thereby making animal welfare and fibre harvesting much easier.
A professional shearer's clothing needs to be durable, warm, and allow for optimal movement. That's why we ensure that our products are synonymous with the precision, quality and reliability that you require.
Browse our range today or get in touch for more information. We're more than happy to discuss any questions or queries you have regarding our products.
Complete Range of Sheep Shearing Clothing
Are you looking for a top-quality hoodie singlet or shearers shirt? Or perhaps you're looking for some promotional products such as stubby holders? Look no further than Just Shear.
When we established Just Shear in 2017, our aim was to provide a one-stop-shop for shearing clothing Australia's sheep farmers and professional shearers could rely on. Fast forward to today, and we now stock everything the modern shearer requires.
We have a wide range of shearing clothing to cover all your needs and requirements. We believe our products encapsulate the quality of other brand products or other renowned name. Our range includes:
We've complemented our clothing range with a collection of shearing supplies and accessories too. Some accessories available include beanies, printed caps, stubby holders and seatbelt clickers.
Check out our range of clothing and supplies today.
Why professional Shearing Clothing is important?
Just Shear clothing specifically combines both form and function. This means that clothing products are designed to keep you comfortable as well as looking good while on the job.
What's more, our shearing singlets come in a soft T-shirt fabric that's resistant to over-stretching yet hard-wearing. Our singlets also come in a wide range of colours and sizes, allowing you to choose an option that's both perfectly form-fitting and suits your personality.
Rather than seeing what baseline shearing singlets eBay has to offer, shop our premium range today – designed by and for Aussie farmers.
Why you should choose us for your Shearing Supplies in Australia?
Our proximity to our customers in everyday life ensures we create shearing products that customers can rely on. We are dedicated to achieving 100% customer satisfaction by offering an all-around and friendly service.
You should choose us because:
We offer a bespoke service
We provide both adult and children's clothing
We only use high-quality materials
We're locally owned and operated
We deliver globally
All printing is done in-house by us.
When searching 'shearing supplies near me', you can rest assured that Just Shear has everything you're looking for.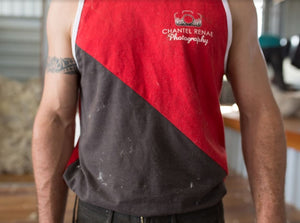 Shearing Singlets
Do you want comfort? Style? To stand out from the crowd? Warmth? Then our shearing range is for you!
With our eye popping colors, not just for the hard working shearer but also rouseys, tradies, farmers or anyone else. Our singlets and hoodies offer a long tail, designed to cover your lower back.
Hard wearing and long lasting! Get yours now!!!
Available with full colour printing or as unprinted wholesale. 

Size range 
Babies & Kids - 00 - 14
​Ladies Racerback - S - 2XL
Adults unisex - XS - 9XL
Comfort - Style - Hardwearing
With a 80/20 Cotton/Poly mix they are a comfy fabric that is hardwearing. Great colours to make you feel ready for anything.
Hoodies are 300gsm so will keep you warm.